THE REST IS HISTORY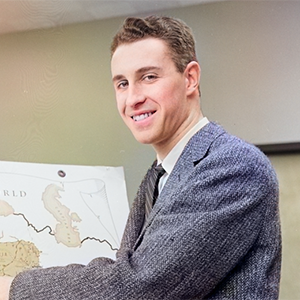 It's an unlikely story: two kids from Portland growing up in the 1940s go on to become world-renowned experts in Middle Eastern, Central Asian and East Asian history.
Bruce Craig '62 and Tom Allsen '62 met on the first day of fourth grade. Continuing their friendship through high school and as active duty members of the US Army, they enrolled in Portland State in 1958 and became roommates in a small apartment on the park blocks.
At PSU, Craig and Allsen quickly found themselves immersed in their studies. Welcomed into a growing history department by dynamic faculty members, they began exploring history and language. Allsen took to Russian and East Asian history, and Craig became fascinated by the history and language of the Arab world.
"The fact that I was able to take language classes in Arabic at an undergraduate level at PSU was astounding," said Craig. "The study of Arabic was not widely disseminated in this country at the time, and was usually only available through Ivy League universities' graduate programs."
As life would have it, these opportunities came at the right time for Allsen and Craig. Both became involved in what later led to their lives' work.
After graduating from PSU Allsen continued his studies—with an interruption for Peace Corps service in Iran—and received his Ph.D. in Comparative Asian History from the University of Minnesota in 1979. By this time, he had acquired a working knowledge of Persian, Arabic and Chinese to go along with the Russian he had learned at PSU. He joined the faculty of the College of New Jersey the following year.
Craig also continued his education, first at the American University of Cairo, then at Princeton University and the University of Michigan. He began his professional career as an Assistant Professor at the American University of Cairo in 1966 and joined the University of Chicago in 1973, serving as Director of the Middle East Documentation Center and Bibliographer for Middle Eastern Studies — a position he held for nearly 40 years.
In 1997, along with a group of colleagues at the University of Chicago and elsewhere, he founded the scholarly journal Mamluk Studies Review and thereafter served as its editor for the first twelve years of its existence. At the same time, he introduced a graduate seminar on Mamluk history, which he taught intermittently, along with a series of visiting professors, until his retirement.
Among his career highlights Craig cited being elected the first president of the Middle East Librarian's Association in 1972, and the Middle East Studies Association having honored him with the Jere W. Bachrach Service Award in recognition of "his exceptional service to the field of Middle East Studies" in 2011.
Now in his 80s, Craig cites the intellectual culture he encountered at PSU with providing a foundation for his subsequent successful and interesting career. "Imagine," he said, "having a job where someone would pay you to spend a couple of months annually traveling throughout the Middle East for almost 40 years!"
After Tom Allsen's death in 2019, Craig decided to honor his friend by making a gift to Portland State that will ensure PSU students can continue to access the kind of education that shaped both of their lives. 
The $1.1 million planned gift will create two endowed professorships in the PSU History Department. The Thomas T. Allsen Endowed Professorship will promote scholarship and teaching on East and Central Asian History from the 11th through the 16th century, with a focus on the Mongol Empire. The Bruce D. Craig Endowed Professorship will promote scholarship and teaching on the lands of the Central Middle East with a focus on the period of the Ayyubid and Mamluk Sultanates in Syria and Egypt.
Ultimately, Craig sees the professorships as a way to foster a vibrant academic and intellectual community rich with ideas and perspectives. He is hopeful they will support PSU in attracting highly-qualified candidates for these positions and bring more prominence to these fields of study.